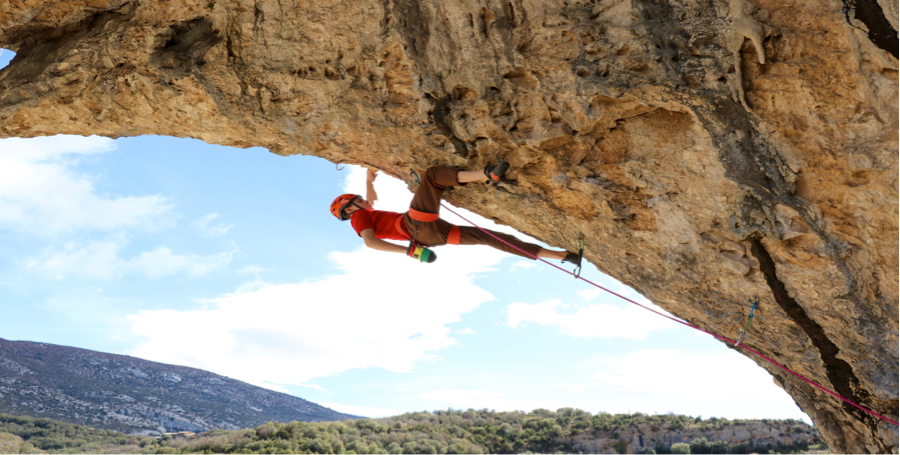 Trip Report | Spain | Tanner Bauer
After a four hour flight to JFK from Denver, my crew and I, which consisted of Kevin and Laura Capps, Zach Arenberg, Olivia Kosanovich, and Aran and Liam Sullivan, boarded our connecting flight to Barcelona. Eight hours later we landed at the Barcelona airport, we rented a van and drove another three hours to Rodellar. As soon as we arrived in Rodellar, everyone one was extremely stoked and ready to climb. Even though we were all jet lagged, we managed to get out and pull our first ever moves on the high-quality rock in Spain. Unfortunately, it started to rain so we bailed and as soon as we got back to our condos everyone immediately fell asleep.
            The next two days we climbed at the Ventanas Delfín area. This area consists of two amazing arches and a 100-yard section of long and steep routes. The Ventanas Delfín area is one of the most beautiful crags I have ever seen with some insanely cool movement, knee bars, and a few scary run outs. At this area, I managed to send El Delfín 7c+ which is the main line up the biggest arche, La Vara de Florentino 7c+ which was a 90-foot roof, and flash Txana 7b+.
On our fourth day we went to a new area called the Gran Boveda, The wall is the steepest, coolest, and the biggest wall I have ever seen. Most of the routes there are 35 meters or taller. Every route contains massive tufas and movements that you can't find anywhere else. Unfortunately, I didn't send anything to this ginormous wall.
            Our fifth day in Spain was our rest day. We went cliff jumping at the beginning of the day even though the water was freezing. Then in the afternoon we still went climbing, tackling all the major classics.
            On the sixth day, we decided to leave Rodellar and go to Suriana due to bad weather. We made the two-hour drive out to Suriana and started climbing right way. We made the poor decision of climbing in the shade which was fine at first but then the wind picked up and it felt like the temperature dropped 15 degrees. Somehow I managed to send this super slabby 7c+. We then moved over to a different wall where we got to see some of the pros on La Rambla which was a super cool experience.
On the last day of climbing, we went back to the wall with La Rambla on it where I managed to onsight a 140 foot 7b+ and send a super cool tufa filled 7c+ I was pretty stoked to have had such a good day of climbing to end of the trip.
            On the eighth day, we went back to the airport to fly back home. After 15 hours of traveling, we finally made it back to Colorado, our heads buzzing with the thought of new projects here in Colorado.